Monday, October 25th, 2021
"There is, incidentally, no way of talking about cats that enables one to come off as a sane person." ~ Dan Greenberg
Based on a True Story that my brother Aaron and I made up the other day via texting with Cat GIFs.
Meet Janice, she works in HR, she's got all the gossip and none of it's true.

She's picking up her nephew from school today. He's a pill. Keeps putting glue on her headset when she works from home.

Haha!! Janice doesn't get mad though because her favorite soap opera is on and it's chicken salad Tuesday.

Yeah, she seems to be really quite content. But she has her moments, like if her soap is canceled due to a televised presidential debate or press conference … whoa.

Lol! Yeah, that really ticks her off. Nobody wants to be around her when that happens. She likes her Bingo night too.
Next day …
Janice is in the office today if you have any HR questions.

Lol, she's a little irritable though because the cleaning crew threw away her half-empty box of Triscuits sitting on her desk overnight.

That was the one thing that got her up this morning and into the office. Now she's going to have to put on her sneakers 👟 and run out during lunch to buy more Triscuits.

Haha. She's going to tell her best friend near work about it over lunch. It's going to take up 90% of their lunch break and she will apologize for going on and on about it and finally ask, how is everything with you? But it's time to clock back in.

Lol!!!
Lol, oh, Janice.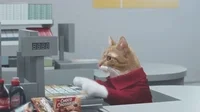 Steve actually ate her Triscuits. Janice didn't leave them at her desk, she left them on the bench when she bolted off after lunch the previous day. Steve felt good about eating every … single … Triscuit.
"Cats are intended to teach us that not everything in nature has a function." ~ Garrison Keillor
*Both of the cat clips above were sourced from Giphy.com.
For More Photos: https://www.instagram.com/considinekim/
Try el. It's the same as 'the' in Spanish. El actor está en juicio. Translates to – The actor is on trial. I first thought it meant an ill actor went on a juice cleanse – but it's more about him/her and legal proceedings. Not at all how it sounds – can't go based on…
Friday, May 26th, 2023 Happy Memorial Day Weekend! "You are not a drop in the ocean; you are the entire ocean in a drop." ~ Rumi "The first step towards true enlightenment is to lighten up on yourself." ~ Bashar As soon as you are able, woman, I am willin' To make the break that…
huh-rang he-rang "Girl… he rang?" "Yes." "Did he rant?" "Yes!" "I'd like to make a toast! Does anyone have any bread? A toaster?" ~ Kim Considine Thoughts, Tuesday, May 23rd, 2023 Sunglasses… What did they do before sunglasses? I'm thinking about war – I wonder if wearing sunglasses would that have changed any victories. They…